Our Teachers
Laurie Betts Hughes
Laurie is a spirited conductor of creative connection who fosters community through choral singing; both community within the choir as well as between the choir and the greater community.  To this end, she loves to build choirs and is the founding artistic director of the Redmond Chorale, the Bellevue Boychoir, and Play At Work's corporate choirs.  Laurie teaches music at Northwest University and has taught collegiate and K-12 choral in public and private schools as well as in the community and the church.   She has published several choral compositions, arrangements, and journal articles and was commissioned to write the commemorative piece for the City of Redmond's Centennial Celebration and several arrangements for North Seattle College.  As a member of the board of directors for the Greater Seattle Choral Consortium "Seattle Sings," she is the chair of the "Big Sing."  Laurie earned a Doctorate of Musical Arts in Choral Conducting from the University of Washington, a Master of Music in Choral Conducting from Colorado State University, and a Bachelor of Music in Piano and Musicology from Oberlin Conservatory of Music.  She is the first recipient of the Robert Fountain Memorial Scholarship in Choral Conducting from Oberlin and was a national finalist in the BMI John Lennon Songwriting Competition.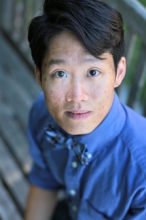 Nathan Shiu
Nathan is a Voice Teacher, Accompanist, Singer, and Choir Director serving the Greater Seattle Area.  Between earning a B.A. in Composition from Whitman College and an M.A. in Music from Washington State University he worked as Staff Accompanist and Adjunct Voice Teacher for Whitman College.  During that time in Walla Walla, he gained additional experience on the stage as actor and singer for Whitman College's Harper Joy Theatre and as pianist for the Little Theatre of Walla Walla.  Nathan can currently be found directing church choir at Salem Lutheran Church in Mount Vernon, singing as a vocal mentor for St. Mark's Episcopal Cathedral's high school aged choir (Cathedral Schola), and playing piano for Bellevue Youth Choirs and Master Chorus Eastside.  As a teacher, he seeks to demystify music for the general public, especially singing.
Chris Gibson
Chris is a musician, composer, and teacher with over 25 years of experience. He has devoted himself to expanding his music experience by participating in a diverse range of music projects involving multimedia, film soundtracks, theater, dance and live performance.  He is a member of the following groups: Tuning the Air, The Atomic Chamber Ensemble, The Orchestra of Crafty Guitarists, The League of Crafty Guitarists, and Lost Pedro. In 1997, Chris attended Cornish College of the Arts Jazz Program.  During this time he also began his participation in Guitar Craft courses directed by guitarist Robert Fripp. In these intensive seminars, he learned the use of a new standard tuning (C G D A E G) and was introduced to specific techniques including collective improvisations known as "Circulations."  As an extension of his involvement in Guitar Craft, he has also been an integral part of The Seattle Guitar Circle since 1997. In 2013, he completed the Pacific Northwest Film Scoring Program.  Chris lives in Seattle with his wife Meleah and his daughter Charlie.
Darren Loucas
Darren has been teaching guitar for over 15 years. "First and foremost, it is my practice to treat every student as an individual with their own taste in music and their own unique way of learning. My greatest joy in teaching is helping students learn to play and express the music they love.  Along the way we learn the fundamentals -- music theory, chord theory, scales, ear training -- and, depending on one's inclination, improvisation, singing and songwriting.  I'm very passionate about leading my students to a place of personal success, confidence and capability -- not only as guitarists, but as musicians." 
Darren teaches individuals and groups.  He's held workshops and coached ensembles at EMP, Guitar Center, Cornish College of the Arts, Adobe, Dusty Strings and more.  He's been a returning faculty member of the Port Townsend Country Blues and Heritage Festival and currently co-organizes both the Columbia City Blues and Psychedelic Festivals.
John Lee
Recognizable through his wide range of sound, colors, and emotions, pianist John Lee has performed in cities throughout the country, in Washington, Oregon, California, Kansas, Nevada, and Ohio. He is in high demand as a chamber musician and has performed on stage with artists such as Elizabeth Pitcairn and Sergei Babayan, and has also collaborated in many different chamber groups with prominent artists. His performances have also been broadcast live on Seattle's KING-FM and Cleveland's WCLV.  He has performed in Master Classes for great artists including Leon Fleisher, Andre Watts, Nelita True, Richard Goode, and Jerome Lowenthal.
A native of Seattle, Mr. Lee has established himself as a pianist in the Pacific Northwest by winning many honors and awards including first prize winner of the Simon-Fiset scholarship competition for several consecutive years, participating as a SYAMF Concerto finalist for many years, performing numerous times with the local Emeritus orchestra, and performing in the prestigious Ilsley Ball Nordstrom Recital Hall. He was also a proud recipient of the Margaret L. Sparling Scholarship for his pre-college studies at the Seattle Conservatory of Music.
After his admission to the Oberlin Conservatory of Music in 2001, he was chosen to represent his division in the MTNA Nationals in 2004. He is a laureate of the Venetia Hall Concerto Competition in Columbus, Ohio. Upon admission to the Cleveland Institute of Music for his Master's Degree, his chamber group won the Darius Milhaud competition at the Institute in 2008, and he also won their Concerto Competition in 2010. He was chosen as the Orchestra Pianist for the National Repertory Orchestra in Colorado earlier that year. He has given numerous solo and chamber performances all throughout the state of Ohio, and was also chosen to participate and perform in the summer music festivals in Las Vegas, Nevada, and Banff, Alberta. Currently, he is planning on finishing his Doctoral studies at the University of Washington.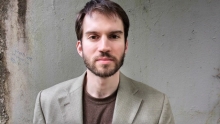 Jeff Bowen
Jeff Bowen is a composer and guitarist, and a co-director of Seattle's Inverted Space Ensemble. His compositions have been performed by Pascal Gallois, Beta Collide, Ensemble DissonArt, and the Nebraska Chamber Players, among other ensembles in the USA and Europe. In 2013 his orchestral piece Stalasso was featured in the Seattle Symphony Orchestra's New Music Works program, and he has recently presented work at the Darmstadt Summer Courses for New Music, the New York City Electroacoustic Music Festival, and the University of Nebraska New Music Festival.
Jeff is currently active in Seattle as a performer on classical and electric guitars, playing and recording with heavy-metal, folk-rock, and tango projects, and performing new works and 20th-century repertoire with the Inverted Space Ensemble, Seattle Modern Orchestra, Universal Language Project, and the Seattle Metropolitan Chamber Orchestra. Recent performances include the Seattle premiere of James Bonney's electric guitar concerto DARKlightNESS with the University of Washington Wind Ensemble, and Steve Reich's Electric Counterpoint for guitar and ambisonic sound diffusion, in collaboration with Marcin Pączkowski. After studying classical guitar with William Ash in St. Louis, he received a BA in Music from Stanford University, where he studied guitar performance with Charles Ferguson and composition with Jaroslaw Kapuscinski and Mark Applebaum. He recently completed a DMA in composition at the University of Washington under Joël-François Durand.